30 Team Association Mod 1.0 (Realistic FA, GM Firing, Salary Cap Management, Draft Rights)
Over the past year, I have been working on an excel sheet that you would use with a thirty team association to help create a more realistic association.
This is not a "mod" in the sense that you overwrite something and you see the difference in-game. It is for people who take associations slowly and hate seeing King James go to the Bobcats.
The mod is completely done for myself, unfortunately, it is not the most user friendly thing ever. I will be presenting tutorials for each sheet in the coming weeks.
If you are somewhat experienced with excel then you will be able to use this right away.
Currently, this excel sheet contains several sheets that either help you organize your association, or help with certain aspects of the offseason.
Draft Protection and Rights - A sheet that has all future first round picks, who used to own them, and what they are protected for the correct amount of years.
Salary Cap Management - This is for those people who enjoy playing realistically with a tax line and tax "apron". Small market teams will not go over the tax (Milwaukee, Toronto) and this sheet helps show what teams have the available money to make certain moves. This sheet is completely automated and could be used with any soft cap number, or any tax line number. It has all the real exceptions and uses them accordingly.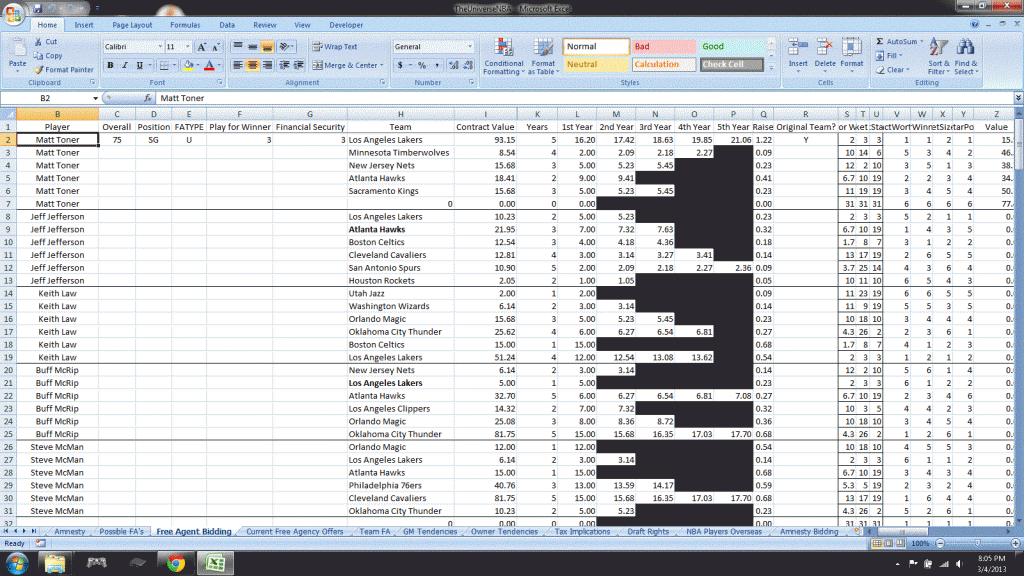 Free Agent Bidding - This is truly my favorite sheet that I have made. You enter that players name, overall, position, FA type, in-game ratings for "Play for Winner" and "Financial Security" (5 being Extremely Important and 1 being Not Important), and what teams are offering him for what amount, and the excel sheet will show you who he would sign with. The excel sheet takes into account market size, monetary value, star power on team, and historical prestige of the franchise.
Free Agent Offers - This sheet shows what team has offered what player.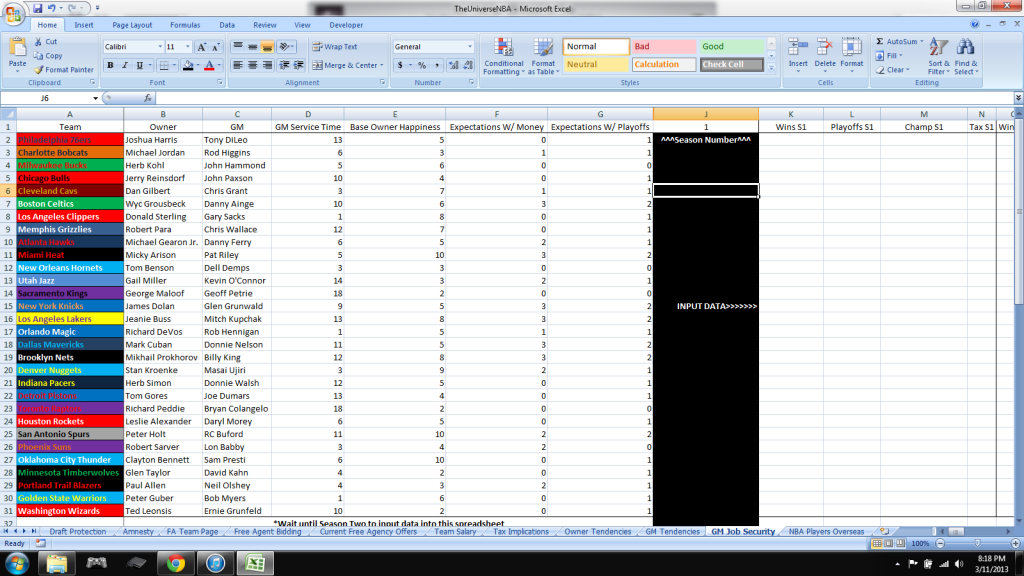 General Manger Firings - This is still a work in progress, it is very rough around the edges, but I figured I could release it and then test and fix bugs. It takes several factors into considerations when deciding if a GM should be fired.
NBA Rankings - This is a completely separate excel sheet,
BUT IT MUST BE PUT NEXT TO THE NBAUniverse EXCEL SHEET.
The NBAUniverse sheet will not work unless the NBA Rankings excel sheet is next to it. This is the sheet where you enter All-Star teams, playoff runs, All-Rookie teams, etc etc.
I realize that this mod will have a very small following, but if someone finds enjoyment in my work I will be satisfied. I originally planned on turning this into an actually application, but life has really kicked me in the pants and I have decided to keep it in excel sheet. I am working on coach firings, draft AI, and trade AI. I plan on trying to create my own NBA text sim in the future years, and I am in the initial process of finding algorithms. Once again, I will be posting tutorials on each sheet if there is interest in them. This is only for NBA 2k players who enjoy controlling some aspect of all the teams. I let the computer control the rotations, but I control all the aspects of the offseason. If you have any questions, feel free to ask or PM me!
30 Team Association Mod 1.0
Thanks,
Illini