STORY OF THE YEAR 2012!

Since 2K13 is less then a week away, as was Live 13 until it was canceled, it's time to wrap up this year by celebrating the best dynasties and associations. It has been quite a slow year in this section, with much less stories from 2-3 years ago, but we'll have a go anyway.

Once again, associations and dynwaties will be in one section and depending on the number of voters, we might have just one round this time, who knows.



Rules :



* You can't vote for your own story.
* Votes will be sent to me via PM.
* Voting ends on Nov 1.
* You can vote for any active dynasty/association, last update within the last 6 months. (By the story maker, don't just bump someone's old topic to make it eligible.)



Voting will be like this :



1st : A's Hawks (10 points.)
2nd : B's Hawks (8 points.)
3rd : C's Hawks (6 points.)
4th : D's Hawks (5 points.)
5th : E's Hawks (4 points.)
6th : F's Hawks (3 points.)
7th : G's Hawks (2 points.)
8th : H's Hawks (1 point.)

Get voting.



The winner will get this prestigious trophy :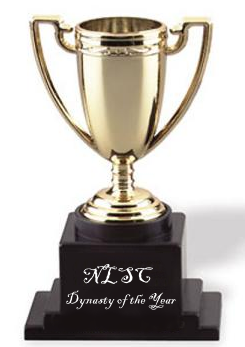 Lamrock
, if can post the better stories with links like the previous years, that'd be great.