Derrick Rose

carried the Chicago Bulls in an unexpected struggle, but then got help from two unlikely sources:

Nikola Mirotic

's charity stripe accuracy and

Taj Gibson

's key rejection. Rose scored 20 points, Mirotic came off the bench to add 17 -- 10 of those coming from the free throw line -- and Gibson blocked a potential game-winner from

Alec Burks

to lead the Bulls to a last-second, 101-99 victory over the Jazz in Utah. No one could believe the score at halftime, with the hosts leading 51-47; but the Bulls went on a 12-1 run in the third quarter to turn a seven-point deficit into a 69-65 lead and never look back again. "That was probably the biggest play of the game, with the tight defense and the block, so we could clinch the win," said Mirotic, who shot 3-of-14. "It was great for us to win a game like this. You look at our record, but not every game is going to be easy."

Joakim Noah

added 16 and seven rebounds as Chicago outscored the Jazz in the paint, 34-22, and outrebounded them 48-37.

Jimmy Butler

had eye-contact with a triple-double, with 10, ten boards and eight assists, while

Pau Gasol

and

Mike Dunleavy

scored 14 each. "You have to pick your poison. Are you going to play Derrick 1-on-1, or double him and allow Mike or Jimmy to be open?", said Bulls head coach

Tom Thibodeau

. "Having a lot of options is never an issue."

"We deserved to win this game. Honestly, I thought we were going to win this game,'' said a disappointed Burks, who notched in 12 points for the Jazz and missed the winning shot from beyond the arc. "It would have been an enormous boost for us."

Steve Novak

led the scoring with 16 points, including 4-of-9 long shots, as the teams had six players each in double figures. "It's like we're taking steps backwards right now," said

Enes Kanter

, scorer of 15 points. "In all aspects of the game. Hopefully we can get back to the gym, have a good practice and turn this thing around as quickly as possible." Neither head coach, Thibodeau nor Jazz head coach

Quin Snyder

is ready to deem this a rivalry again -- not until both teams are contenders again. "This two teams have a long history between them. Their Finals clashes in the '90s are unforgettable," said Snyder, "but right now, it's good, old-fashioned basketball between two teams that are playing for something." The game was played with retro jerseys in honor of those showdowns. Rookie

Dante Exum

had eight points, as

Trey Burke

missed the game because of a

torn calf muscle

for Utah (5-10), losers of five of their last six.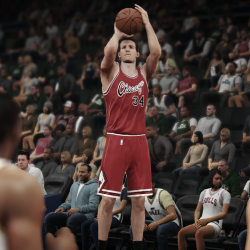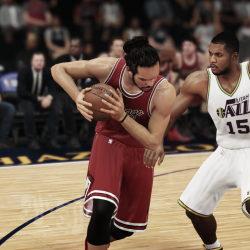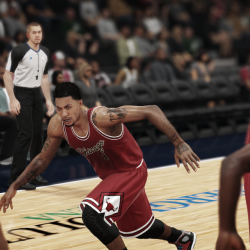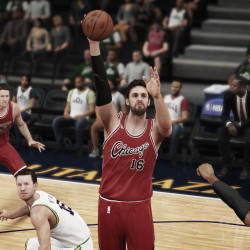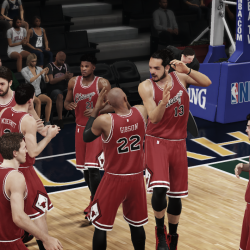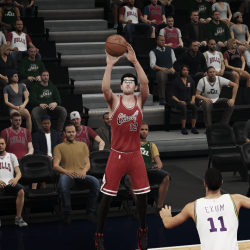 At halftime, Nuggets head coach

Brian Shaw

made his players watch a horror short -- highlights of their defense in the first quarter. "It was as ugly as it looked,''

J.J. Hickson

said. After allowing 34 points in the that first period, and being down by 20 at intermission, the Nuggets buckled down but their rally didn't come to fruition, as the Bulls kickstarted yet another winning streak, 116-102 over the Nuggets on Tuesday night. "Our bench was outstanding," Shaw's counterpart

Tom Thibodeau

said. "I thought that they gave us energy, they got us stops and blocks. Their production was perfect." Thibodeau went to his bench earlier than normal and left them in the second quarter when the lead got even bigger:

Taj Gibson

and

Aaron Brooks

scored 11 points each, and rookie

Doug McDermott

added 10. They were a nice supplement to the 19 points from

Derrick Rose

and the 16 from

Joakim Noah

. "That's what we do, we try to change the pace of the game," Brooks said of Chicago's second unit, scorers of 51 points.

Nikola Mirotic

posted 19 and

Pau Gasol

notched in 16, as they combined for a solid 15-of-19 shooting from the field. The Bulls led as many as 24 in the third quarter, winning the battle in the paint in the process, 40-26.

A former Bull,

Nate Robinson

came as a reserve to guide Denver's offense, with 20 points, while

Kenneth Faried

led the starting five with a double-double: 17 and 12 boards. Both teams shot over 50 percent -- the Nuggets shooting an acceptable 40 percent from beyond the arc, but suffering with these shots in some passages of the game. "We usually shoot a lot of 3-pointers, but I think we got a little happy with them tonight," Shaw said. "We didn't get enough penetration for our much needed points inside." The Nuggets even had a 8-6 edge in offensive boards, but the Bulls scored 10 second chance points, against Denver's two.

Ty Lawson

completed a double-double as well, with 13 and twelve assists, as Hickson scored 12. "There was no continuation. If we had another quarter, I think we would have won it," joked

Arron Afflalo

, a Bulls target in the offseason, who finished with 11 points and six assists. With no timetable to

Danilo Gallinari

's return from a

knee tendinitis

,

Wilson Chandler

has stepped in skillfully -- 16 points tonight, and an average of 12.7 points and 5.2 rebounds during Gallo's absence. "We got some stops defensively in the second half and we got ourselves back in the game," said Chandler, "but I thought we were a little in awe and time was against us."