RUN WITH THE PACK - A MINNESOTA TIMBERWOLVES ASSOCIATION
Welcome to my Minnesota Association for NBA 2K14. I haven't done an Association/Dynasty story for several years and am looking forward to sharing this one with the forums!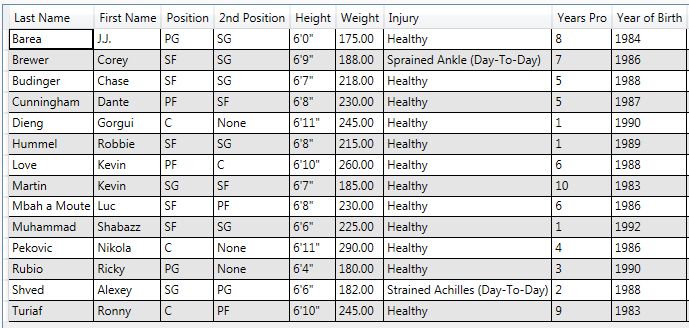 DECEMBER 30TH (INGAME) STATS AND STANDINGS UPDATE:
Single-game 2013-14 Season records held by Timberwolves players:
Points: Kevin Love (54)
FG made: Kevin Love (20)
FG attempted: Kevin Love (34)
Assists: Ricky Rubio (16)
Steals: Corey Brewer (6)
Points leaders
K.Durant OKC 29.2
R.Westbrook OKC 254.9
C.Anthony NYK 23.4
K.Love MIN 22.3
L.James MIA 21.8
Rebounds leaders
D.Jordan LAC 10.9
N.Vucevic ORL 10.8
D.Favors UTA 10.7
D.Howard HOU 10.5
R.Hibbert DEN 10.3
16th.
K.Love MIN 9.4
Assists leaders
R.Rubio MIN 8.7
R.Rondo BOS 8.2
C.Paul LAC 7.5
J.Wall WAS 7.2
K.Lowry TOR 7.1
Steals leaders
C.Paul LAC 2.2
R.Rubio MIN 2.1
C.Paul LAC 2.1
K.Walker CHA 1.9
M.Conley MEM 1.9
Blocks leaders
B.Lopez BKN 2.4
K.Love MIN 2.2
R.Hibbert IND 2.1
D.Jordan LAC 1.9
N.Pekovic MIN 1.8
FG% leaders
N.Pekovic MIN .620
D.Jordan LAC .563
D.Howard HOU .546
B.Griffin LAC .544
T.Duncan SAS .538
3PT leaders
E.Maynor WAS .556
P.Beverley HOU .484
T.Ross TOR .471
M.Miller MEM .467
B.Mullens LAC .464
13th.
K.Martin MIN .465
3PTers made
S.Curry GSW 92
K.Durant OKC 79
K.Love MIN 78
C.Anthony NYK 68
O.Mayo MIL 65
The specs of the game:

Team: Minnesota Timberwolves 2013-14 Opening night roster
Roster: Kova's Because We Can (with a few small adjustments)
Draft Class: 2014 Draft Class by Kova
Difficutly: All-Star

-> Increased to Superstar


Schedule: NBA
Quarter Length: 12 mins
Sim Quarter Length: 12 mins
Sliders:Custom realistic sliders by brump
PRE-SEASON SUMMARY:
The expectation is that the team will at least make a solid run for the playoffs. Ideally a top 6 finish in the Western Conference given the team's upside and added pieces in the offseason, namely Kevin Martin who brings that shooting touch that the Wolves have been craving for so long. The team also regains Corey Brewer who's game has improved since he left the team a couple of seasons ago, he comes back with a vastly improved offence as well as the same defensive tenacity he has always had. Ronny Turiaf and drafted rookie Gorgui Dieng also bring a strong defensive element to the team's second unit.
Perhaps the biggest key is having a number of injury plagued stars available at the same time, namely Kevin Love and Ricky Rubio who barely played any games together at all last season. Nikola Pekovic returns after a breakout season in which he finally succame to injuries toward the end of the year due to the heavy workload bestowed upon him with a majority of the rest of the team injured. Although some are already calling him a bust, Derrick Williams showed signs of brilliance when called upon late last year and is hoping to provide solid contributions off the bench this year.
All in all, most players on this roster have an upside which is the most exciting thing about the team this season. Continued improvement is exepected for a team that has struggled ever since the franchise traded away Kevin Garnett several years ago. But finally there is some excitement about Minnesota basketball that hasn't been seen in a long time. With a hungry fanbase expecting the best, and a team that knows they have what it takes, all the motivation is there to push this team back into the playoffs.