STORY OF THE YEAR 2013!

NBA Live 2K14 Current gen is already out, everyone are looking forward to the Next Gen version as well as the return of NBA Live, so time to wrap up the year and vote for the best story this past year.

This time you'll need to vote for just 5 stories, not 8 like last, should make it more simple.



Rules :



* You can't vote for your own story.
* Votes will be sent to me via PM.
* Voting ends on Nov 20.
* You can vote for any active dynasty/association, last update within the last 6 months. (By the story maker, don't just bump someone's old topic to make it eligible.)



Voting will be like this :



1st : A's Hawks (10 points.)
2nd : B's Hawks (8 points.)
3rd : C's Hawks (6 points.)
4th : D's Hawks (4 points.)
5th : E's Hawks (2 points.)

Get voting.



The winner will get this prestigious trophy :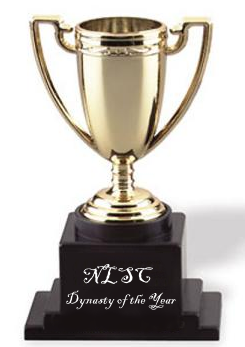 Past winners :

2012 - badreligionau - The Next Level (Denver Nuggets)
2011 - badreligionau - The Next Level (Denver Nuggets)
2010 - Sit - A Legend Is Born III (Seattle Stealth)
2009 - Sit - A Legend Is Born II (Seattle Stealth)
2008 - Chaser7 - Clippers '09 (Los Angeles Clippers)
2007 - ?? (Can't find the results, topic here.)