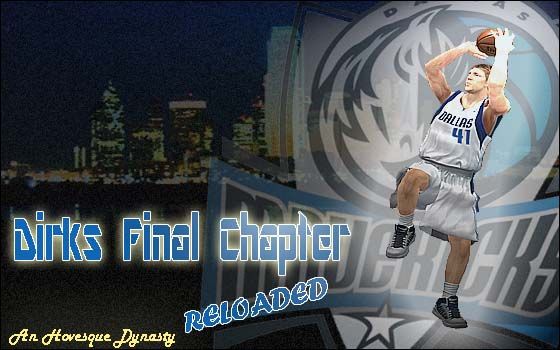 Dirk's Final Chapter

reloaded

Okay, guys. Hov is back. After experiencing the YLOD on my PS3 again, I decided to move on with my brand-new PC and get 2k13 a shot on it. It's really way better than on PS3, so I will run my new story on PC.
Again, I have chosen the Mavericks. Why? This team has everything you want to have running a Dynasty. An perennial All-Star and franchise player in Dirk Nowitzki. Lots of role players who can step up and have All-Star potential with guys like Collison, Mayo and Kaman. Decent contracts which allow to rebuild and sign big free agents if possible. Further I am a Dirk fanboy for reasons that are obvious and I think he still has enough in the tank to carry a team, at least in a video game. So what you can expect from this story:



Realism

: Is everything for me running a story. This is why I have CPU trades switched off and will only allow them once every month for like one week. If the deals suck too much, I will overwrite them and you won't even notice them. Of course bad decisions are the daily bread of the NBA, so I won't intervene everytime. I am still playing around with the sliders but I think they are decent. And I am playing on Superstar - so I will definitely lose games - like the real Mavs do (too often).



Witing & Graphics

: Being on PC makes it way easier to give a good presentation. My limit is my time - if I have time, I love to layout stuff and photoshop around - so you can expect it every once in a while. Apart from that writing is also a lot of fun, so I hope I can improve on that, too.



My Multiverse

: "Multiverse", a great word X once brought up in this section. This is "my league". This means that I will accept how things go and try to add a good storyline to everything. If I don't like something, I might change it via editing but you would not even notice

My goal is to give you a great overview of my league which makes it feel like an own NBA world. Sit did an heck of a job doing that with ALIB so it's something I strive for.



Draft Classes

: My Multiverse also means fictional draft classes, and on PC this will be sick. I already have two draft classes with fictional players all having realistic faces. No generic player appereance in here! Credits go to all the draft class makers like Pierrealban or Dare and some others. Nice work. Rookies are the alpha and omega in creating an own world, so I hope this turns out to be great. Here is a quick view of my settings:




Season length

: 82 games (I will sim some of them, depends on my time)


Team chemistry

: ON


Player Roles

: ON


Progressive Fatigue

: ON


Trade Deadline

: ON


Trade Override

: ON


Allow CPU Trades

: OFF (ON for short periods every month)


Preseason games

: ON


Injuries

: ON


Playoff Format

: 5-7-7-7 (No sense to make it a seven game series in the first round - might explain that in an article)


Quarter length

: 12 mins - Simmed Quarter lenght: 12 mins


Roster

: Skoadams URB wih my own tweaks

Big thanks goes out to all the patchers making this game more enjoyable. Shutouts to those who followed my last stories.