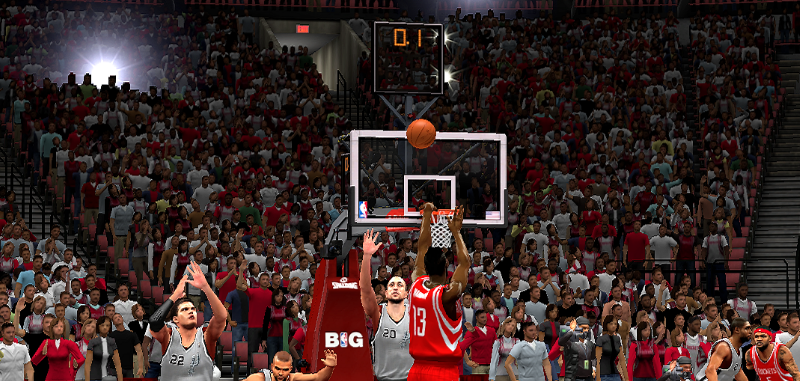 Yeap, clearly in his hands still.
2K screws Martti as Spurs beat Rockets in OT
Recap

|

Box Score

|

Highlights



4 quarters of good gameplay between two southwest division rivals.

Fast forward - Manu Ginobili makes a three with 0.6 left over Parsons - 2K - 1, Martti - 0. Game goes into OT.

Harden ties the game with a dunk, fuck yeah, 12 seconds left.

Parker dribbles like an idiot for 10 seconds, then gets blocked by Sanders, who Martti controlled, but CPU fouled him with Lin. 2K - 2, Martti - 0.

He makes both, 1.1 left. Harden catched the inbounds, splashes a three. Game over right? Let's look at the events that followed.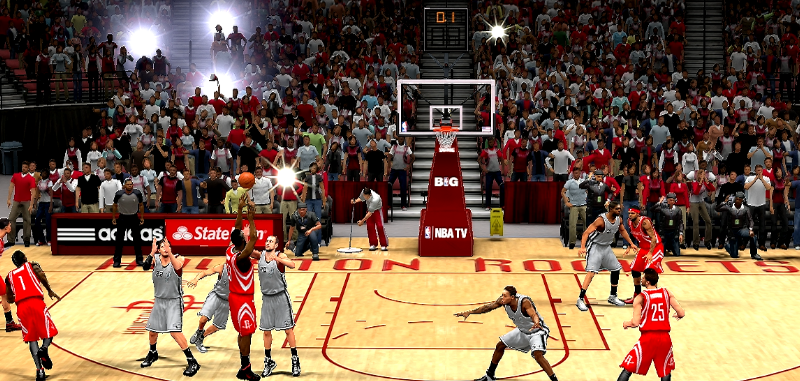 0.1 on the clock and the ball is out of Harden's hands.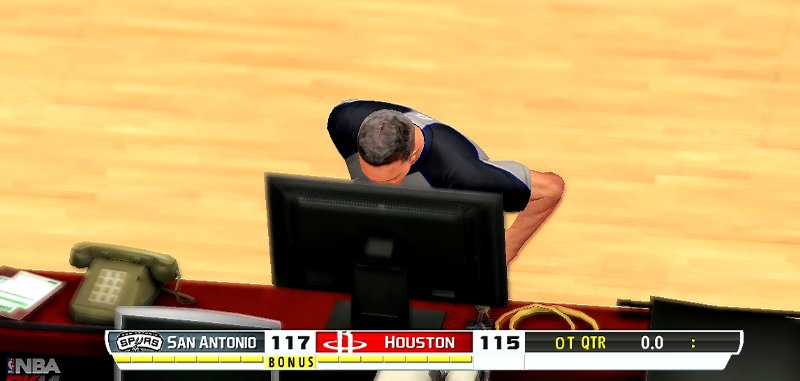 Dumbass looks at shiny picture box.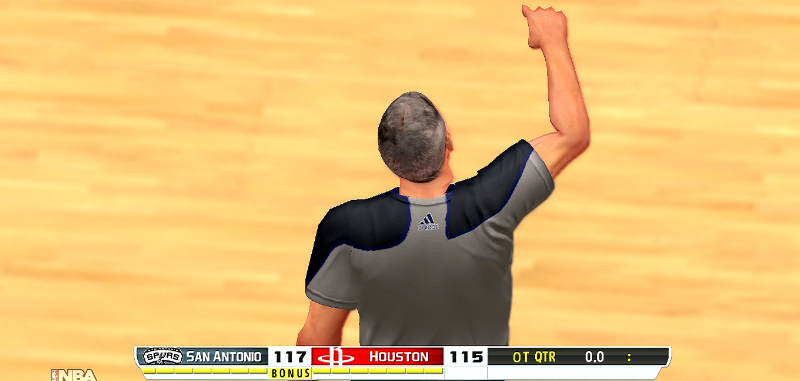 Dumbass says it's good. 2K says Fuck no, and Tim Duncan celebrates soon after.





Recap

|

Box Score

|

Highlights





HOU (27-20)

| 24 | 26 | 25 | 26 | 14 ||

115

||

(SHOULD BE 118, FUCK YOU, 2K!)




SAS (26-20)

| 26 | 25 | 29 | 21 | 16 ||

117

||

Player of the Game : Tim Duncan
(SHOULD BE HARDEN!!)
| 18 PTS | 14 REBS | 0 ASTS | 1 STLS | 0 BLKS | 8-10 FG | 0-0 3 PT FG | 2-2 FT


James Harden : 41 points

(SHOULD BE 44!)

, 7 rebounds, 8 assists, 12-20 FG, 4-5 3PT, 13-14 FT


Chandler Parsons

: 17 points, 6 rebounds, 3 steals, 3 blocks, 5-9 FG, 3-3 3PT, 4-4 FT


Jeremy Lin

: 16 points, 6-13 FG


Josh Smith

: 14 points, 6 rebounds, 3 blocks, 7-14 FG, 0-4 FT


Gerald Green

: 10 points, 3-7 FG, 4-4 FT


Larry Sanders

: 9 points, 6 rebounds, 5 assists, 2 blocks, 4-6 FG






Manu Ginobili :

29 points, 12-17 FG, 5-8 3PT


Tony Parker

: 24 points, 8 assists, 9-22 FG, 6-6 FT


Stephen Jackson

: 12 points, 5-10 FG


Kawhi Leonard

: 10 points, 3 rebounds, 4 assists


Tiago Splitter

: 8 points, 10 rebounds, 3 steals


Omer Asik

: 2 points, 5 rebounds