STORY OF THE YEAR 2011!



It's that time again! As the two sections have merged and there are far more 2K stories then Live stories, it wouldn't be fair to have two sections this year, as there probably aren't enough active Live stories. 2K12 has just come out, so time to wrap up this year.

So voting will only be in 1 category this year, after the votes are in, the Top 6 will remain and continue in the final vote for Story of the Year.



Rules :



* You can't vote for your own story.
* Votes will be sent to me via PM.
* Voting ends on Nov 1.
* You can vote for any active dynasty/association, last update within the last 6 months. (By the story maker, don't just bump someone's old topic to make it eligible.)



Voting will be like this :



1st : A's Hawks (12 points.)
2nd : B's Hawks (9 points.)
3rd : C's Hawks (7 points.)
4th : D's Hawks (5 points.)
5th : E's Hawks (3 points.)
6th : F's Hawks (1 points.)

Get voting.



The winner will get this prestigious trophy :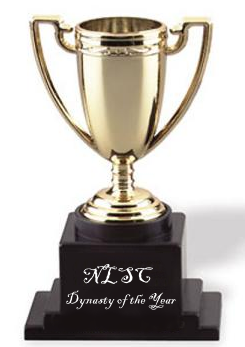 (Though it says dynasty, this trophy has been with us every year)