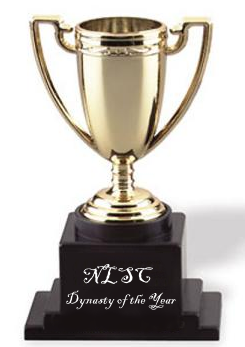 The Best Dynasty there is..
OK, had a thought, that it be cool to know, what dynasty attracts the most people.. Not to look at replies..

I was in contact with Andrew and he said this topic belongs to this forum.

I have no idea, what the winner gets..
The knowing, that you are the best Dynasty artist... And Dynasty of the Year.

Anyway, here's how it will work :

* Votes are

sent to me by PM!


* Can cast vote for only active dynasties!
* You can vote for 3 dynasties with points 3, 2 and 1.
* You can't vote for your own dynasty.
* Votes can be sent from April 8.07 to April 27.07.
* You can't post votes here. Only maybe posts like "Just cast my Vote too.." etc.
* Only NBA Live dynasties count.

Ok, hope you'll all read this thread and I'll start receiving votes!

Have a nice day!

And moderators, could this topic be pinned so it wouldn't drop below with the lack of response.