NBA Reportedly Passes Anti-Tanking Draft Reform, Player Resting Rules
ESPN's Adrian Wojnarowski reported Thursday that the NBA Board of Governors passed new rules for draft lottery reform and player resting.

Wojnarowski noted that the new lottery system meant to curb tanking will be in place for the 2019 NBA draft.

As part of the reformed lottery, the team with the NBA's worst record will no longer have sole possession of the best odds to get the No. 1 overall pick, as seen in this chart tweeted by Wojnarowski: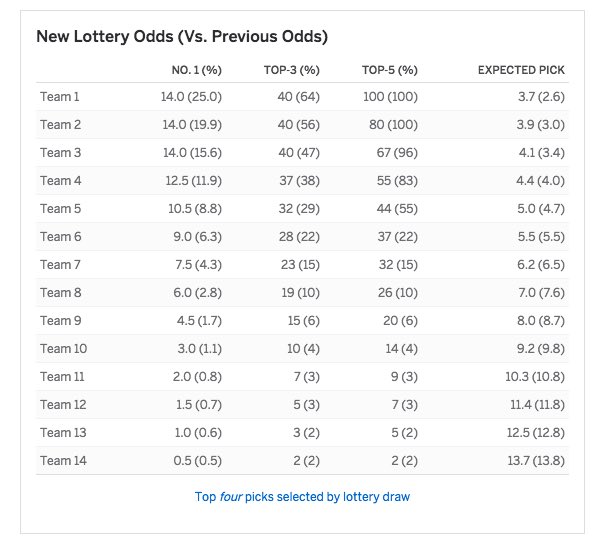 Not a bad idea. I have no problem with the lottery and Draft being a way for teams to start over and get back to being competitive again, but anything that prevents an ugly race to the bottom is fine in my book. Of course, it's worth noting that since the lottery was implemented, only four teams with the worst record and four teams with the second worst record have actually won it. That's only eight times out of 33 that teams racing each other for the worst record have had it pay off, and only four times that the team that "succeeded" in being the worst got the top pick out of it. I think the lottery has already been a decent safeguard against tanking yielding the number one pick, but this will perhaps be more incentive to keep trying a little longer into the season, since the odds don't get much better between the bottom five anymore.
Probably more controversial is the issue of rest:
Wojnarowski reported on Sept. 18 that NBA Commissioner Adam Silver was pushing for a rule that would result in teams being fined if they sat healthy star players in nationally televised games or multiple healthy starters in regular-season games.

Silver will have discretionary power in fining teams for resting healthy players, and teams will be encouraged to do so for home games if they feel they have to. The rested players will also be required to be present on the bench, per Wojnarowski. Jeff Zillgitt of USA Today reported Silver could fine teams up to $100,000.

In an effort to curb the need for teams to rest healthy players, the league reduced the number of back-to-back games from 16.3 to 14.4 per team in 2017-18.
I like both measures. By all means reduce the number of back-to-back games, but the amount of big name players being rested when healthy and in nationally televised games featuring match-ups with Playoff implications has gotten a bit silly. If nothing else, I like the stipulation that they have to show up and sit on the bench; I'd also reiterate Jeff Van Gundy's suggestion that maybe they should have to participate in an autograph session or something in lieu of playing the game. They're getting paid a lot of money, so the least they could do is fulfil some sort of obligations to their team and the league, if they insist on taking a night off when they could actually play.