Hey guys, welcome to my first ever jersey patching thread that I hope can lead to more jersey patching in the future.....Now onto the point. This thread is about concept jerseys Im making based off of some nifty designs I've seen on several websites. While they are fantasy they are not over the top. They bring some old jerseys up to date while also paying homage to the past. Now, if you like Dynasties and Associations then this can give your story some more realism as we all know teams change jerseys every few years

. So W/o further a do here they are:
London 2012 Olympics(All credit to Verminator for Floor Colors)
Download
http://www.mediafire.com/?ayno6ia9qha2e64
2012 All-Star Weekend Pack
East Jersey
Court
Dornas
Download
http://www.mediafire.com/?whaala1xsin57bf
Miami Heat "South Beach Edition" Alternates
Download
http://www.mediafire.com/?6knmh1k7sb5ygc8
Real 2012 New York Knicks Jerseys
Download
http://www.mediafire.com/?cnacklczqf8w4z3
Should Orlando have tinkered with their rebrand a tad bit more a few years ago? Maybe, but if they did then Im hoping it would've turned out something like this...
New Orlando Magic Unis and Court
Download
http://www.mediafire.com/?77n4a1jzgwhjus7
Phoenix had an amazing season in 2010 reaching the Conference Finals an pushing the then Back 2 Back Champion Los Angeles Lakers to 6 games. But, like other teams, the Summer of 2010 was a bad one for the team. They lost their 2nd franchise player to free agency in a money saving move only to see him flourish in a big market(Lebron,Bosh). Steve Nash with only a year left on his contract and at 39 years of age has no help and missed the playoffs in 2011. One can only wonder what the future holds for this franchise in the next 2-3 years and how tough the growing pains might be, but if they are difficult, some new unis would make it easier to look at....right?
Post Stat & Nash Era Phoenix Suns Unis
(Road and Alt previews to come later)
Download
http://www.mediafire.com/?btcv6cwaab7y81r
Lets see, in one year Cleveland has been through the worst times as a sports town and thats just the basketball team. The other sports they aren't the Yankees, or Patriots so Im going to be kind. After LeBron took his talents elsewhere the Cavs went from 1st to last and earned the 1st pick in the NBA Draft as a result which some might see as the diamond in this steaming pile of ****. Kyrie Irving was selected to lead the Cavs into a new era of Cavs Basketball, problem is they went retro a year before he arrived and didn't necessarily pull it off right. So here we go...
Kyrie Irving Era Uniforms
Download
http://www.mediafire.com/?w21g01fl373vmnc
Toronto had one of the best an different colorways and uniform sets I'd ever saw so when I got around to these I wanted to be true to the "Crazy" past but also keep the fierce look of now. So take a look at these "things"

Raptors "New Air" Unis
Download
http://www.mediafire.com/?8cc96edb28i2dbd
Detroit has been down a lot lately ever since their 2 consecutive NBA Finals runs in 04-05. The team has followed the New Jersey Nets blueprint of how to be top dog in the East to last place. Even beyond the court the city of Detroit has suffered dramatically from high unemployment numbers and a high crime rate. As bad as it is in Detroit these days don't you think the best thing to do is to show your standing in unison w/ the city that has supported you for over 4 decades no matter what....THIS IS DETROIT AND WE ARE MOTOWN!
Motown Alternates
Download
http://www.mediafire.com/?6drtokv6s3iqder
The Indiana Pacers have one of the most unique logos in all of sports and are one of the few franchises that stay true to what works like The Lakers, Celtics, Bulls, and Knicks. Now in no way was the latest update a stepback, but it wasn't a giant leap forward either considering they were leaving behind the jerseys that the franchise had the most success under. Instead of going in a different direction they should just add in something that makes them unique from other teams and includes something that represents THEM AND ONLY THEM. So why not just look the big bag of the past and combine it with the present and future?
Young Racer Pacers Unis


Download
http://www.mediafire.com/?jx66nn426d90ccu
Since The Sonics were moved from Seattle to OKC the NBA world has been pretty uneven on what to make of the teams rebranding attempt. Not only did they pick a (at the time) "uncatchy" team name, but also choose the wrong colors to represent what their team is called

. I don't know about you, but when I hear Thunder I think Thunderstorm or Tornado(it is Oklahoma after all). Instead of doing anything drastic they just need a minor change, so why not replace the clear skies blue color with that of a Thunder Cloud grey?
Kevin Durant/Russel Westbrook Era Uniforms & Courts
FN11/Qfrmcpt310 Collaboration v.1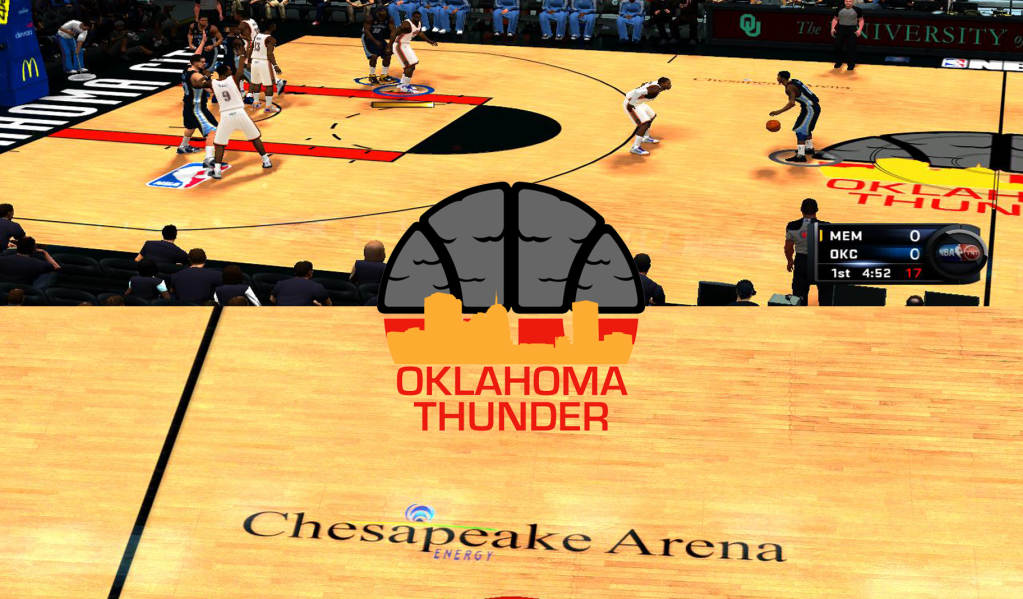 Download Court
http://www.mediafire.com/?e8so7v3nxjdc6z1
v.2(will make new jerseys later)
Download Court
http://www.mediafire.com/?bsdryyb6zaqdixk

Download
http://www.mediafire.com/?myyqijis527ek8q
The Atlanta Hawks were one of the worst franchises in the NBA when the last decade begun. Entering with their usual Red, Black, Gold color scheme, but by the end of the decade the Hawks were in their 3rd consecutive playoffs and 2nd staright reaching the 2nd round. This of course came during the "do what everyone else is doing" jersey update leading to a red, white, and blue color scheme. The team had no reason to join the Sixers,Clippers,Pistons,and Cavaliers wearing the "RWB" color scheme, let alone the countless other teams wearing blue. So why not take it back a little?
Old/New Hawks Jerseys & Court



Download Jerseys
http://www.mediafire.com/?4n4tj1u4tgmji1v
Download Court
http://www.mediafire.com/?jm3z633tr1mtr94
(All rights to the original maker of this court)
The New York Knicks over the last decade have went from Eastern power to joke of the league thanks in large part to many front office blunders and talent on the court not equating to W's. Well after the summer of 2010 it was apparent that New York was ready to shed it's last decade of futility and bring in a superstar that would lead them beyond where they had even surpassed before. The years this franchise has had black in it's colorway have been mostly horrid years and after over a decade of it New York released a new logo replacing the black with a shade of grey reminiscent of the late 70's Knickerbockers. With Amar'e Stoudemire and Carmelo Anthony leading the way, the Knicks look foward into this next decade to bring in a new era of New York dominance with a new logo and new unis!
Stat & Melo Knicks Era Uniforms

Download
http://www.mediafire.com/?mbisj48e1bm6le2
The Bulls have played over 2 decades in pretty much the same uniforms besides a color change on letters and numbers. From MJ,Pippen,Phil,Rodman,etc. to Rose,Boozer, and Noah these unis have been a constant. As nice as these are there is a problem, Chicago introduced new uniforms for the Michael Jordan Era, so why not bring them into the "D-Rose Era" with new unis symbolizing this new era of dominance?
Derrick Rose Era Uniforms
Download
http://www.mediafire.com/?htg0xsgamyrzgtc
The Big 3's window closed in 2009 when Kevin Garnett went out w/ a knee injury, but in 2010 they made a return trip to the Finals and came within 1 game of another title. Why?....Rajon Rondo. When he plays like crap the Celtics do. He is the motor for that team even if he can't knock down jumpers w/ regularity. The Celts, even as historic as they are NEED a uniform update. They have played in the same unis since the 1960's! So why not change it up just a bit and begin the Rondo era in style!
Rajon Rondo Era Uniforms
Download
http://www.mediafire.com/?x1grk8ynh46g12w
Taking No More Requests!!!!!!