NEW THROWBACK TEAM(S)!!
Decade All-Stars
Hey NLSC! It's been quite a while since I went modding and playing the game. Life happened, and thank goodness it's been kind to me recently. Found some free time again, and improved the decade rosters I made from a while back.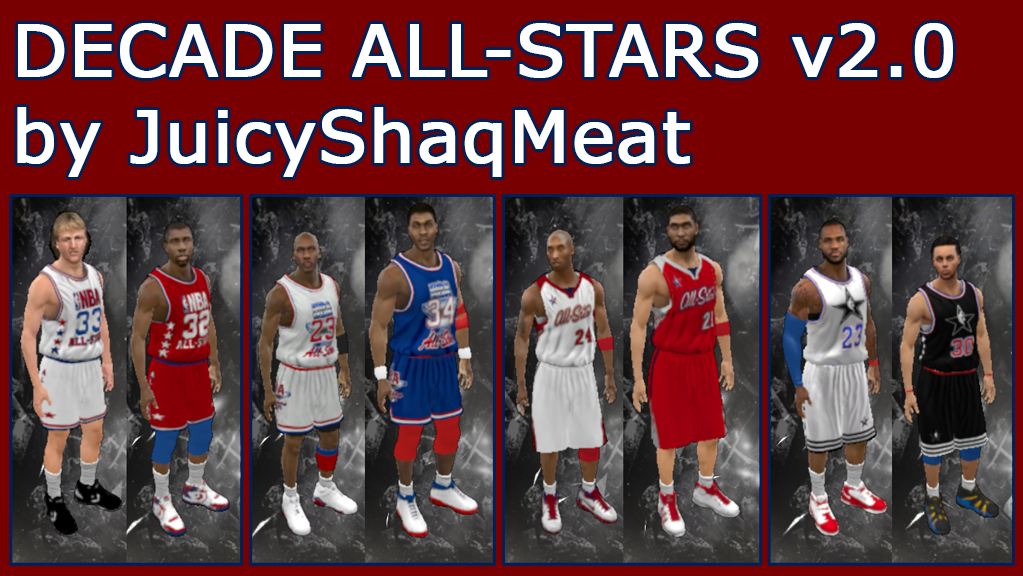 Not only did I update the 1990's and 2000's teams, but I also added the 1980's and 2010's teams. I haven't attempted assembling the 40's-70's teams due to the lack of nostalgia for them and the retro shorts not being short enough to fit those eras. Anyway, the rosters are based on my selections for the top 15 players during those decades. Feel free to discuss below how differently you might select your players and lineups.
These are the lineups I made for each decade (
bold
denotes the starters,
italics
for inactive reserves):
1980's:
K.Abdul-Jabbar, L.Bird, J.Worthy, J.Erving, M.Johnson
, M.Jordan, I.Thomas, K.McHale, D.Wilkins, C.Drexler, R.Parish, M.Malone,
A.Dantley, A. English
1990's:
H.Olajuwon, K.Malone, S.Pippen, M.Jordan, J.Stockton
, G.Payton, C.Barkley, P.Ewing, D.Robinson, S.O'Neal, C.Drexler, R.Miller,
S.Kemp, A.Hardaway, G.Hill
2000's:
S.O'Neal, T.Duncan, K.Garnett, K.Bryant, S.Nash
, J.Kidd, D.Nowitzki, P.Pierce, V.Carter, T.McGrady, A.Iverson, R.Allen,
M.Ginobili, T.Parker, M.Yao
2010's:
K.Durant, L.James, J.Harden, R.Westbrook, S.Curry
, C.Paul, D.Wade, A.Davis, K.Leonard, K.Thompson, D.Howard, P.George,
D.Rose, K.Irving, C.Bosh
Obviously, these were inspired by the Decade All-Star teams of the older NBA Live and NBA 2K games. As I noticed that the Live teams had their jerseys based on actual All-Star jerseys during their respective decades, I applied the same to these teams (with a few modifications).
Download and enjoy! I still think 2K11 in the most fundamentally sound game in the series, and I hope you enjoy it as much as I still do

PREVIOUS RELEASES:
1984-85 Los Angeles Lakers
Universal Legends
1999-2000 Indiana Pacers
1999-2000 Toronto Raptors
1999-2000 Portland Trail Blazers
1999-2000 Los Angeles Lakers
2003-04 Detroit Pistons
2003-04 Los Angeles Lakers
2003-04 Indiana Pacers
2003-04 Minnesota Timberwolves
2006-07 Utah Jazz
2006-07 New Jersey Nets
2011-12 Oklahoma City Thunder
2012-13 Indiana Pacers
1992-93 Phoenix Suns
2001-02 Sacramento Kings
2000-01 Philadelphia 76ers
2007-08 Houston Rockets
2000s All Stars
90s All Stars
********************************************************************************************************************************************************************************
Hi, NLSC! It's been a while since I made updates. For now, I decided to try making one of my dream projects: the 90's and 2000's All-Star teams.
Yes, the idea definitely came from the NBA Live series and furthermore inspired by the newer NBA2K's URBasketball and UBR mods. Basically, I got the best and most practical versions of the players from different roster files floating online. Below are some screenshots of the roster and gameplay:
http://i.imgur.com/RyjdHwa.png
http://i.imgur.com/FzfeFPi.png
http://i.imgur.com/fkZvDvp.png
http://i.imgur.com/FDepHay.png
http://i.imgur.com/0uWGqHl.png
I'm still making some minor tweaks to the ratings and info, but I hope to release them by Christmas. This will basically be my holiday gift to the community!