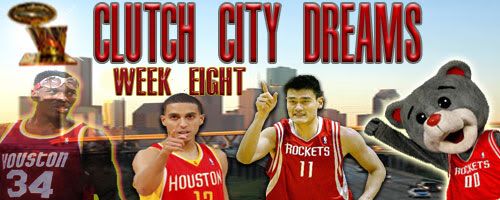 Part I
[17-5] Houston Rockets 94

-

96 Chicago Bulls [13-9]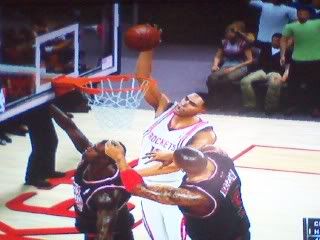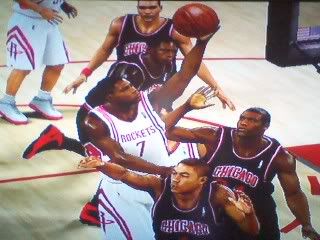 Kevin Martin double posterizes Luol Deng and Carlos Boozer. | Nobody else backed up Martin in scoring in this game.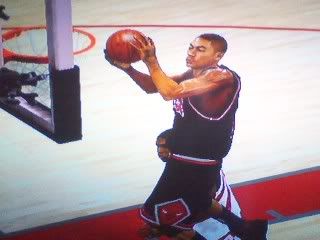 Derrick Rose didn't play like his usual self this game, but he did notch a double-double. | Boozer hitting the game-winning free throws.
"
One of the more exciting games the Rockets have had in recent weeks,
" were the words of commentator
Marv Albert
after the TNT broadcast of this game.
And true to that, neither team got a hold of a double-digit lead this game, and there were many lead changes throughout the course of this one. Houston started the game off well going on a 10-2 run midway through the first period as they were led by
Luis Scola
who scored eight points in the period. Chicago answered with a three-pointer by
Kyle Korver
, and
Luol Deng
helped to give the Bulls the lead at the end of the period.
Kevin Martin
took some time to get into it as he was held to 2/6 shooting and seven points in the first quarter.
In the second quarter,
Yao Ming
became the go-to-guy as he scored Houston's first six points in the period, as both teams continued to trade blows. Deng had an unreal first half as he had 14 points on 6/7 shooting at halftime, but despite that, Houston had a slight one point lead at the break.
After a rough start to the second half, Coach
Rick Adelman
subbed in Martin and he went to work immediately. He scored 14 points in the third quarter alone, knocking down a couple of three-pointers and did not allow Chicago to stretch their lead. An emphatic alley-oop slam by Martin gave the Rockets the lead again 66-65, and it was a lead they would hold for the next handful of minutes.
For the Bulls, Deng continued to score at an extremely efficient pace, with his shooting numbers amounting to 11/12, good for 24 points going into the fourth quarter. He however, would slow down in the final period, one that came down to the wire.
The Rockets got a hold of a seven point lead in the fourth, but behind
Taj Gibson
, who scored 16 points off the bench, the Bulls came stampeding back. Korver gave the Bulls the lead with a three, 90-89, and after a forced turnover,
Derrick Rose
finished a breakaway slam to make it 92-89. Just when it seemed the game had a momentum swing, Martin answered back with an emphatic one-handed jam plus the foul on Deng and Boozer. Martin made the free throw to tie it at 92.
With a minute and a half left in the game, Martin made an uncontested layup to put the Rockets up 94-92, as the Bulls called a timeout. On the next possession, Rose made a tough fadeaway jumpshot to tie the game, but the Rockets could not convert on their next possession. After another timeout, Boozer drove in on Scola and was fouled. He made both free throws to give the Bulls a two point lead.
Off a timeout, Martin was given the ball. He got the mismatch he wanted with
Joakim Noah
in front of him. He got enough space for a decent jumpshot but got the unlucky bounce at the buzzer as Chicago held on to steal a win on the road from Houston.
Notes:
Chicago's offense was superior to that of Houston's this game. The Bulls shot 50% and had 28 assists and also won the battle on the glass 47-37. Houston shot 42% against the best defensive team in the league, and had a sub-par 18 assists. Houston however, forced the turnovers as they had 14 steals, 15 turnovers forced from Chicago.
Key Performers:
Rockets

:
Kevin Martin - 33 points, 5 assists, 4 rebounds, 4 steals, 11/23 FG, 2/3 3P, 9/9 FT
Courtney Lee - 12 points, 1 rebound, 1 block, 5/8 FG, 2/3 3P
Luis Scola - 12 points, 8 rebounds, 1 steal, 6/16 FG
Yao Ming - 10 points, 10 rebounds, 2 assists, 2 steals, 2 blocks, 5/12 FG
Kyle Lowry - 10 points, 5 assists, 3 steals, 4/7 FG
Bulls

:
Luol Deng - 26 points, 6 rebounds, 5 assists, 1 steal, 12/18 FG
Taj Gibson - 16 points, 6 rebounds, 1 assist, 7/12 FG
Carlos Boozer - 14 points, 8 rebounds, 2 assists, 5/10 FG, 4/4 FT
Derrick Rose - 14 points, 11 assists, 3 rebounds, 2 steals, 7/14 FG
Kyle Korver - 8 points, 1 rebound, 3/5 FG, 2/2 3P
Joakim Noah - 8 points, 13 rebounds, 1 assist, 3 steals, 1 block, 3/9 FG
23 25 27 19 94
25 22 25 24 96
[17-6] Houston Rockets 114

-

90 Golden State Warriors [13-8]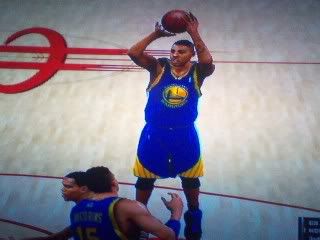 Courtney Lee has had a great week so far. | Dorell Wright doing things for Golden State.
After what was seen in the first quarter, it was speculated that this would be another exciting game at the Toyota Center.
Kevin Martin
got off to a good start scoring 17 points in the quarter, 24 for the half.
Monta Ellis
provided for the Warriors' side as he had nine points in the first period, but Houston edged out Golden State for a five point lead at the end of one.
In the second quarter, Houston pulled away towards a double digit lead, going up 45-32 during a three-minute scoring drought from Golden State. They gave it an effort, but the Warriors were down 15 at the half, and things only got worse in the second half.
Houston wrecked Golden State on the boards 61-41, shooting 48% from the field and hitting 18/19 of their free throws. Golden State shot just 39% from the field, not really their usual selves.
"
It was a bad night all around. The shots weren't falling and we weren't communicating well. They had us beat on both ends of the floor and hopefully we'll be able to come back next time with more willpower,
" Warriors Head Coach
Keith Smart
said.
Martin was the high point man with 32 points on 12/23 shooting, while
Dorell Wright
top scored for Golden State with 20 points, and showing some defense with three steals and two blocks.
Yao Ming
had his best game of the season thus far with a double-double of 20 points and 12 rebounds, an effort that was lacking last game against Chicago but appreciated all the same.
To cap off the week, Houston will visit Denver and then come back home for a quick pit stop against San Antonio before going on a West Coast road trip, where they will be facing the Warriors again.
Key Performers:
Rockets

:
Kevin Martin - 32 points, 4 rebounds, 3 assists, 2 steals, 12/23 FG, 2/3 3P, 6/7 FT
Yao Ming - 20 points, 12 rebounds, 1 assist, 1 steal, 2 blocks, 9/13 FG
Luis Scola - 14 points, 8 rebounds, 2 assists, 1 steal, 1 block, 4/9 FG, 6/6 FT
Kyle Lowry - 12 points, 8 assists, 1 rebound, 6/13 FG
Courtney Lee - 9 points, 3 assists, 2 rebounds, 2 steals, 4/8 FG
Warriors

:
Dorell Wright - 20 points, 2 rebounds, 2 assists, 3 steals, 2 blocks, 9/16 FG, 2/4 3P
Monta Ellis - 15 points, 3 rebounds, 1 assist, 3 steals, 7/22 FG
Stephen Curry - 13 points, 15 assists, 5 rebounds, 1 steal, 4/16 FG, 4/4 FT
David Lee - 12 points, 7 rebounds, 1 assist, 2 steals, 6/13 FG
Enes Kanter - 11 points, 11 rebounds, 2 assists, 5/12 FG
31 29 25 29 114
26 19 23 22 90