Wasn't quite sure what section this really fit into. Even though it's about a specific NBA player, since it'll cover both NBA Live and 2K for the most part, I thought I'd put it in the Virtual Hardwood section. I'd also understand if it got moved to the Photoshop Studio section. Anyway:
Journeyman Shaq!
If you're anything like me, you're a big Shaq fan. During the course of his career, he provided great entertainment, whether it'd be his sheer dominance on the court or his many great quotes off it.
If you play any NBA games and you see him on the free agency list, you begin to wonder: what would my team be like with Shaq? Perhaps you've even made that signing in your dynasty/association... I know I have!
So here's the idea; I want the NLSC members to help me out with something called "Journeyman Shaq". Basically, if you see Shaq on a team in your dynasty (preferably one that hasn't already been done before hand), I want you to take a screenshot and either:
-Make an image 200 pixels wide by 300 pixels heigh and post it in this thread. These constraints will make sure the images are uniform.
or
-PM me the screenshot and I can make it the correct size.
I suppose the rules are to basically post within the forum guidelines. And for the start, try to refrain from trading him to a random team and playing an exhibition game just for the photo op. I know I played an exhibition game with the Celtics for one, but it was the team he was with during NBA 2k11. If you can specify what NBA video game it's from as well, that'd be excellent

Of course, this isn't just limited to the traditional NBA teams. Expansion teams, All-Star and any other teams would be great too.
Gallery
NBA 30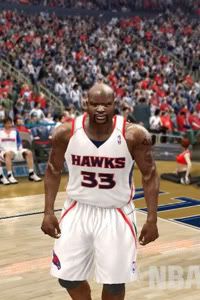 Miami Heat
Other Teams
Games And Contributors
NBA Live 2000
-Portland Trail Blazers (
Andrew
)
NBA Live 2002
-Los Angeles Lakers (
Andrew
)
NBA Live 2005
-Miami Heat [NBA 30 section] (via
X's Bobcats Dynasty
by
The X
)
-Miami Heat [Miami Heat section] (via
X's Bobcats Dynasty
by
The X
)
NBA Live 06
-90s All-Stars [PC Project Roster] (badreligionau)
-East All-Stars (via
X's Blazers Dynasty
by
The X
)
NBA Live 07
-Miami Heat [Miami Heat Section] (
JaoSming
)
NBA Live 09
-Phoenix Suns (
Andrew
)
NBA Live 10
-Atlanta Hawks (via
Houston, We Had A Dynasty
by Axel.)
-Cleveland Cavaliers (via
Denver Nuggets - The Next Level
by badreligionau)
-Charlotte Bobcats (via
Oklahoma City - New City, New Challenge
by Phil89)
-Denver Nuggets (via
Denver Nuggets - The Next Level
by badreligionau)
-Golden State Warriors (via
Denver Nuggets - The Next Level
by badreligionau)
-Oklahoma City Thunder (via
Oklahoma City - New Beginnings
by Phil89)
-Seattle Supersonics [Other Teams Section] (via
Oklahoma City - New Beginnings
by Phil89)
NBA 2k10
-Miami Heat [Miami Heat Section] (via D-Wade and the Titos by badreligionau)
-Toronto Raptors (via
'Saur Losers
by Lamrock)
NBA 2k11
-Boston Celtics (badreligionau)
-Chicago Bulls (via
It's Hollywood Down Here - Miami Heat Association
by Martti.)
-Dallas Mavericks (Radioman)
NBA 2k12
-Houston Rockets (Cruzerr)
-Milwaukee Bucks (Cruzerr)
-Orlando Magic (
Andrew
)
------------------------------
I have a feeling this will probably fall flat on it's ass, but I thought it was an interesting idea and can be entertaining during the lockout. I'm hoping it'll see screenshots from all different basketball games and hopefully even become a continued idea for other players (Journeyman Ammo maybe?)
EDIT 2/12/11: With 15 teams in the NBA 30, we're officially at the halfway point! Thanks to all the current contributors. Hopefully the next 15 can come relatively quickly as well